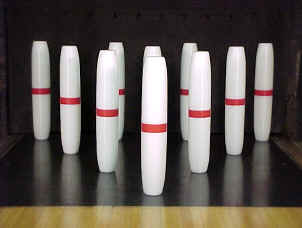 HAVERHILL, Mass.
—
A Groveland police officer has tied the world record for the highest single-string score in candlepin bowling history. Chris Sargent of Haverhill bowled a 245 last Friday at the Metro Bowl Lanes in Peabody. The 40-year-old Sargent told The Eagle-Tribune he was "in a zone and feeling good" but didn't realize he was nearing the record until the end of the string because he doesn't like looking at his score. He said he realized he was getting close when the other team started cheering him on and a crowd gathered around his lane. The record was set in 1984 by Ralph Semb of Erving. Semb, now president of the International Candlepin Bowling Association, told The Associated Press on Wednesday the organization has accepted the record and thinks "it's great."
1. Who even knew there was an International Candlepin Bowling Association? Do they share an office with the National Skee Ball League? Where is the Major League Shuffleboard headquarters?
2. I have never even heard of candlepin bowling. It just looks like a bunch of vibrators in a triangle and you have to use a ball the size of a softball. Is it just to make it more difficult. It looks like complete luck. You just hit it and hope it knocks the other ones down.
3. "it's great"? Why did he give the most PR answer in the world? What, does the President of the ICBA need to save face? Would people look poorly upon the main governing candlepin bowling association if their president said he was pissed someone beat his 27 year record?